Appropriate Guinea Pig Cages
Many of the ready-made cages sold in pet stores are not suitable for guinea pigs—despite the fact they are advertised as being so. Most of them are too small and some even have wire grid floors—which should never be used to house guinea pigs.
Bigger is better! For the health and well-being of your guinea pigs, provide as large a living area as you can manage. Cage size standards are listed below. Following these standards will result in happier, healthier, and perkier guinea pigs.
Cage Size Standards

# of Pigs

Minimum

PREFERRED

Square Feet

in Inches

5.7 sq ft

39" x 21"

more is better

7.3 sq ft

46" x 23"

10.5 sq feet

10.5 sq ft

50" x 30"

13 sq feet

13 sq ft

30" x 62"

more is better
---
Custom Cages!
Cubes and Coroplast (C&C) cages are a customizeable, and often less expensive, alternative to ready-made cages. You can buy or build your very own C&C cage to provide sufficient space for your guinea pigs.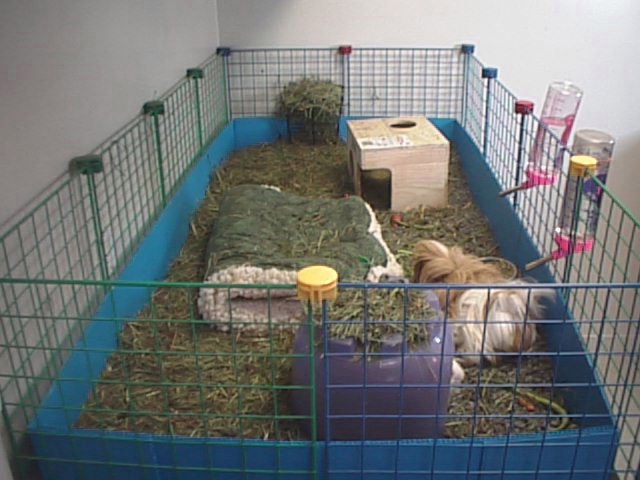 Information on buying or building your own C&C cage:
C&C cage sizes:
-- A 2x3 C&C Cage is suitable for 1 or 2 guinea pigs
-- A 2x4 C&C Cage is suitable for 2 or 3 guinea pigs
The above are the dimensions for the main level (if two levels are present). The main level cannot be any smaller than the above even if a second level is present.
---
Ready-Made Cages
There are several brands of ready-made cages that we recommend. If you adopt from MGPR or live in the Washington, DC area, you can get some of these cages from Weber's Pet Supermarket in Fairfax (11021 Lee Hwy, 703-385-3766) or Chantilly (14508 G. Lee Road, 703-631-2738). If you tell them you are adopting from MGPR they will give you a 10% discount.
---
Midwest Guinea Pig Habitat (or Habitat Plus): This cage doesn't have the stiffness of other cages as the cage bottom is made of canvas (specially coated to make it leak-proof). The canvas bottom makes it easy to fold up the cage and pack it up for travel or storage but makes the cage a little less sturdy. The Midwest Guinea Pig Habitat has no top whereas the Habitat Plus comes with a lid. You can purchase these cages at: Amazon.com and Petco.com (availability last verified 05/05/2013)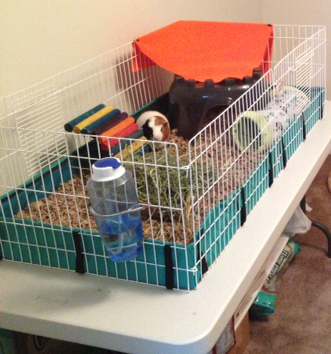 ---
Marchioro of Italy: These cages are a snap to clean. They have handles for carrying, a top opening as well as front door opening (the largest one has 2 doors), and a hay rack that is attached on the outside.
This is the Large Marchioro Cage. It measures 46x23x20 (or 7.3 sq. ft) and is suitable for 2 guinea pigs.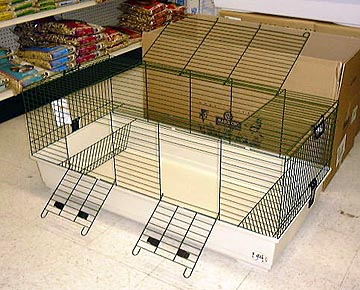 NOTE: We do not recommend the Small Marchioro cage. The Medium Marchioro is suitable for 1 guinea pig.
---
Tubbies cage (a Prevue Pet product): The PR525 is acceptable for two guinea pigs. The PR524 is only acceptable for one guinea pig. We do not recommend the PR522 because it is too small for even one guinea pig.

The PR525 can be purchased at Pet-Expo. Also available from online retailers: Amazon.com and Wag.com (availability last verified 05/05/2013)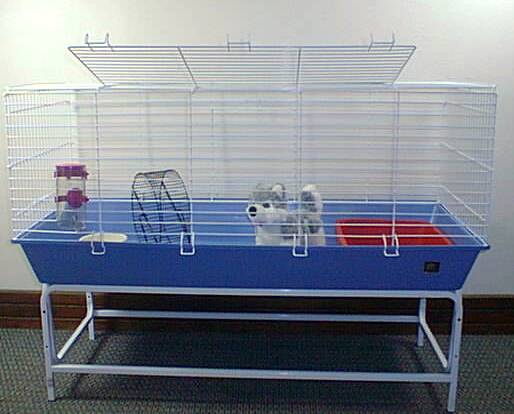 ---
Hagen Living World Deluxe Habitat: The extra-large cage is acceptable for two guinea pigs. The large is only acceptable for one guinea pig. We do not recommend the medium cage because it is too small for even one guinea pig.

The extra-large cage can be purchased at online: Amazon.com and Drs. Foster and Smith (availability last verified 05/05/2013)
---
Kaytee 48x24 Rabbit Home: The 48x24 rabbit home is acceptable for two guinea pigs if the ramps and ledges are removed. All other Kaytee homes are too small.

The 48x24 rabbit home can be purchased online at: Amazon.com (availability last verified 05/05/2013)
---

Send mail to webmaster@mgpr.org with questions or comments about this web site. For general questions and comments, please email info@mgpr.org
Copyright © 2011 Metropolitan Guinea Pig Rescue